Our Classrooms
The Preschool is arranged in three developmental groups; Caterpillars 0-2 year olds, Butterflies 2-3 year olds, and Bees which has a focus on the year before school. This allows us to most effectively structure activities around what interests the children and their different developmental needs for rest, play and also more structured activities.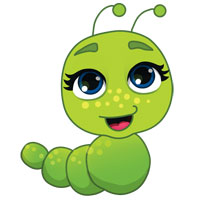 Caterpillars (0-2years)
The Caterpillars benefit from high educator ratios, where our focus is on ensuring a fun day, filled with nurturing activities and cuddles, and in which all of each child's needs are lovingly met by our wonderful team.
Butterflies (2-3years)
In our Butterflies room we focus on building confidence and self awareness through encouraging self help skills, craft, art and music. Relationships between the children are also beginning to take shape and positive interactions are being developed through lots of play.
Bees (+4 years)
Our biggest little people are beginning to understand something of their world and their place in it. This makes for some really interesting activities as we meet lots of everyday concepts. As a more structured program, the Bees engage with activities that will best prepare them for school the next year. Rest periods are always available for those children that need it, but as the year progresses emphasis increases on more specific school readiness activities.